CCSM is proud to continue to be the Capital Region anchor for the next steps on the Excluded Worker Fund campaign: Excluded No More
Our demands:
 Permanent repairs to our safety net. The Excluded No More legislation will make it possible for our state's most vulnerable workers to get access to unemployment compensation, no matter what they do for a living or where they're from. More info below on what this legislation would look like.
To get involved in our campaign, email Iridian at iridian@sanctuarycolumbiacounty.org or call 518-303-3848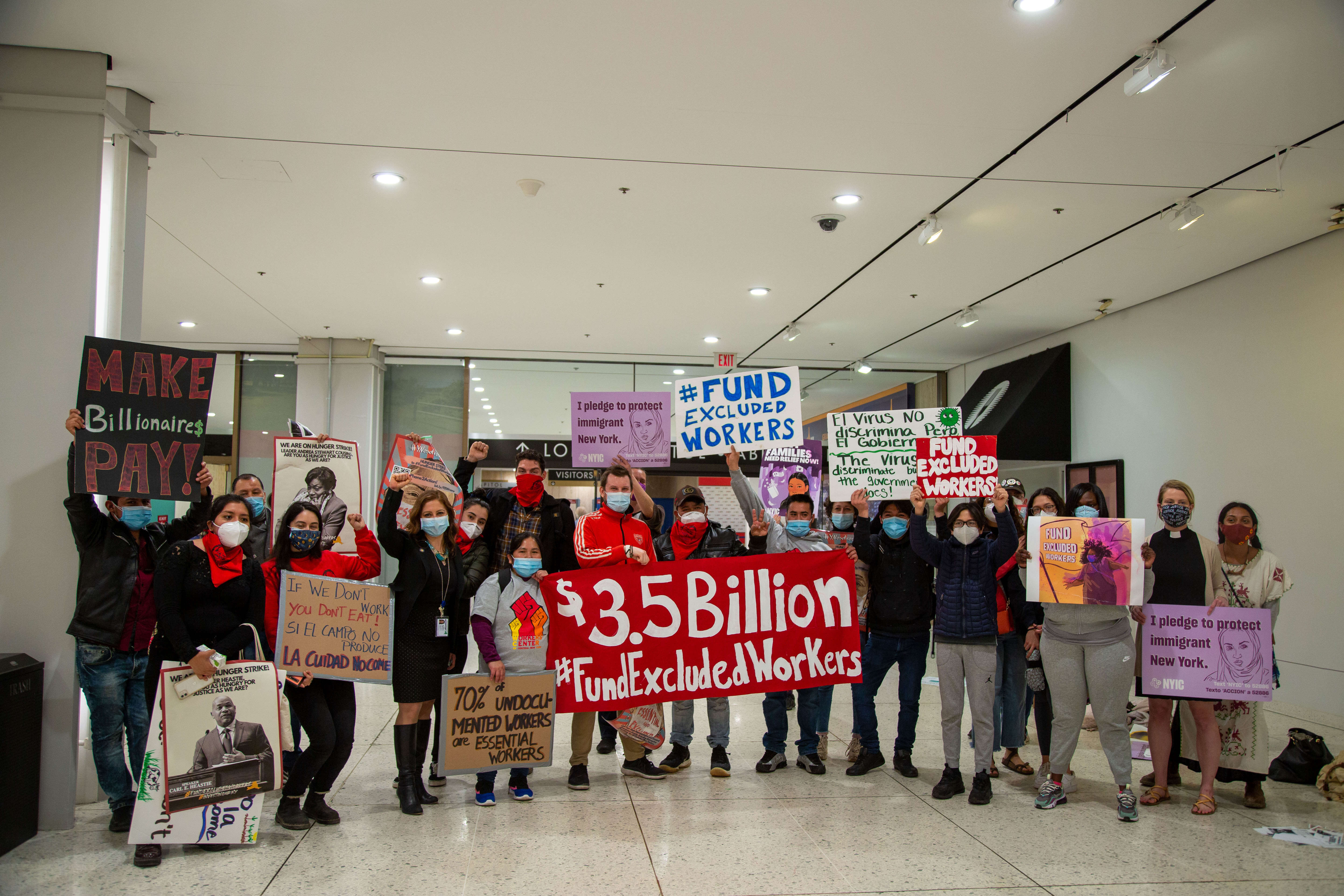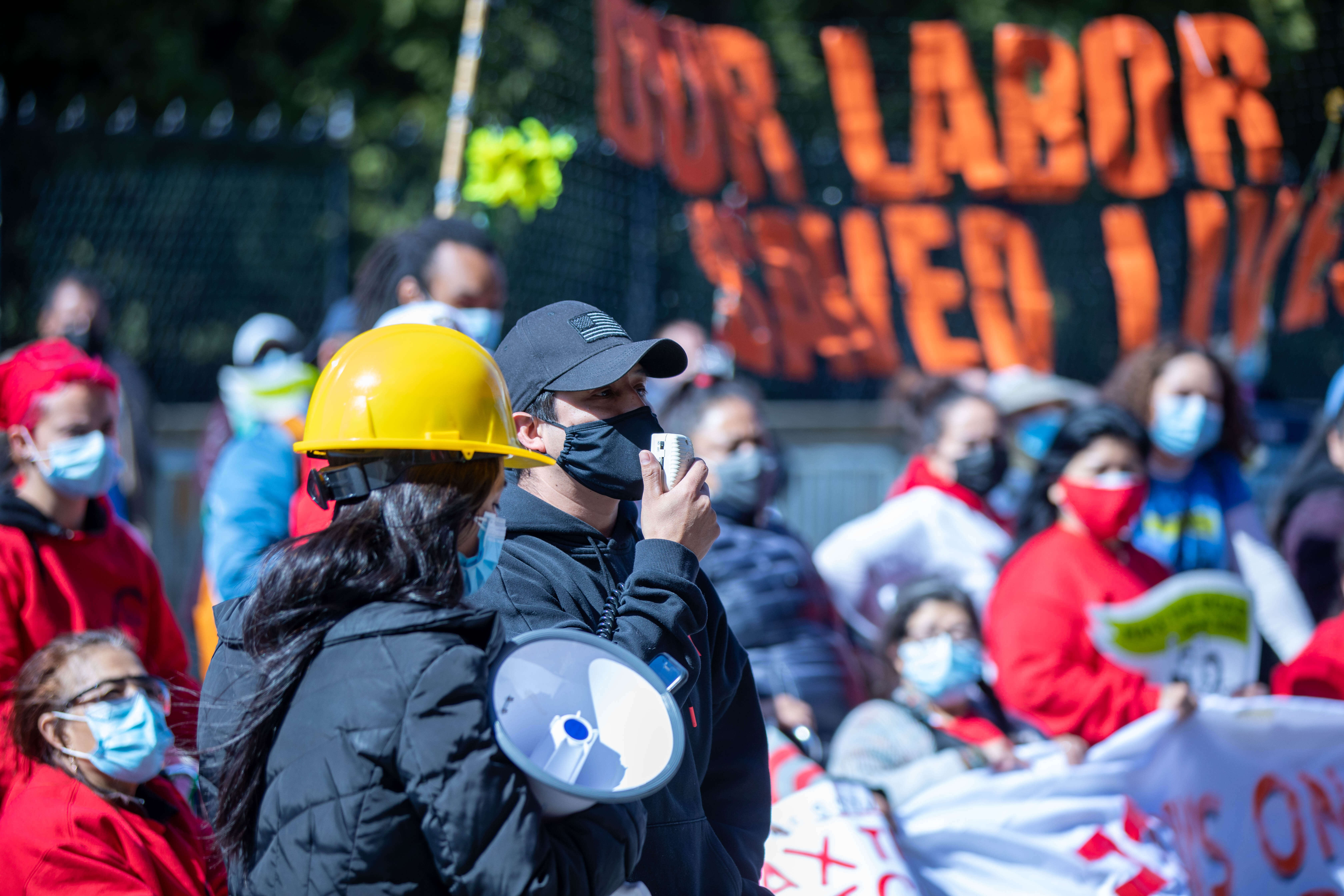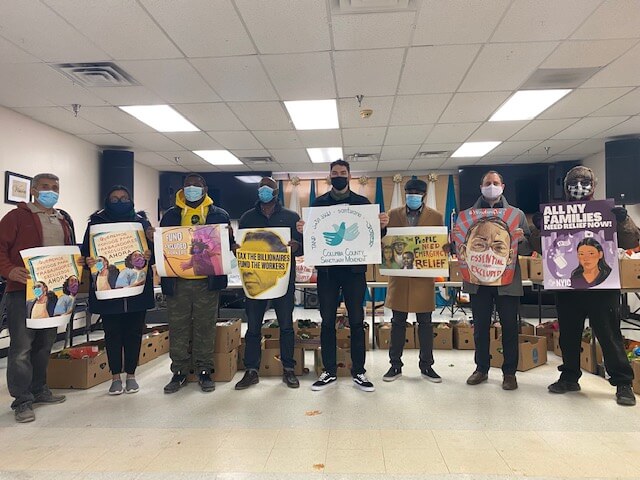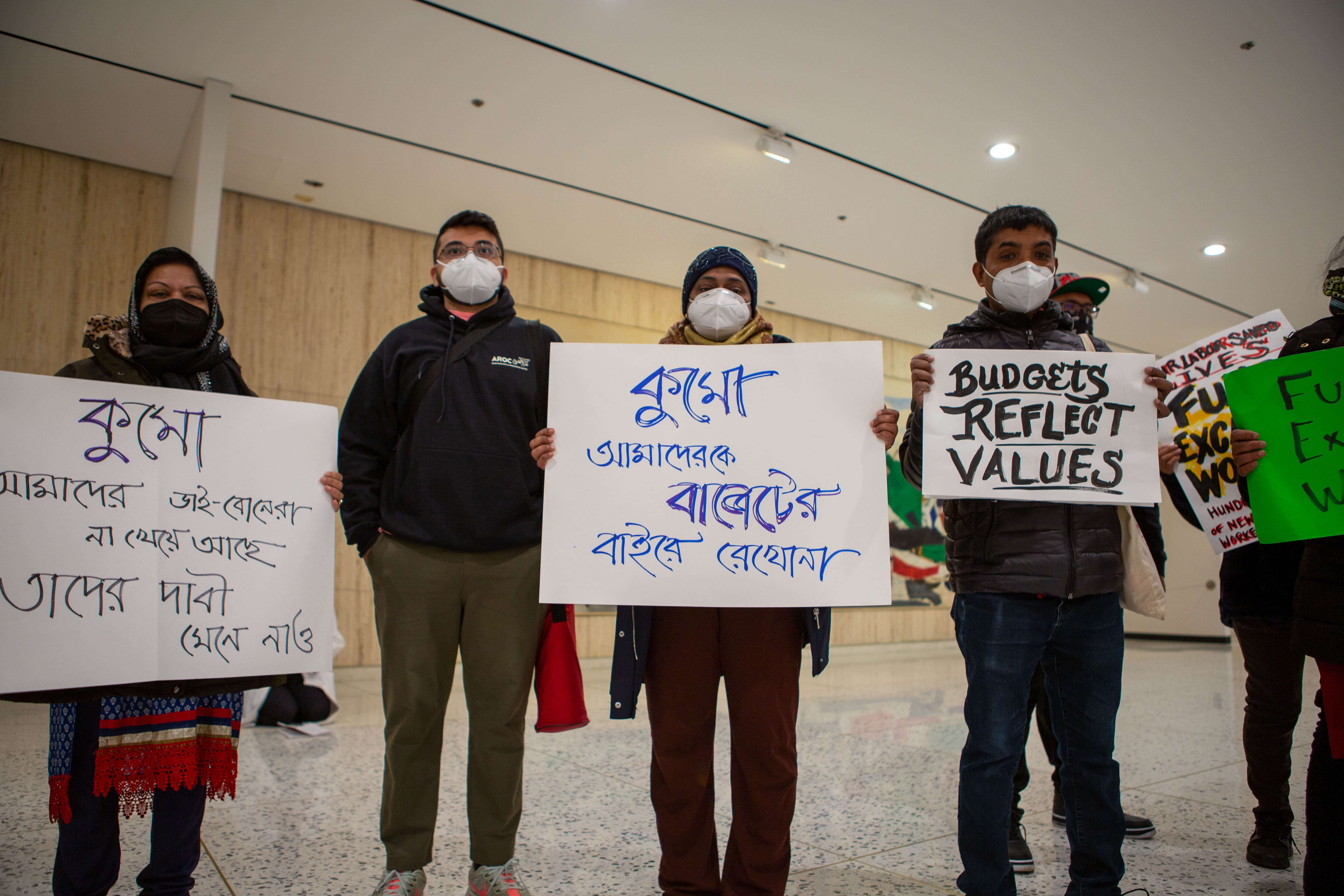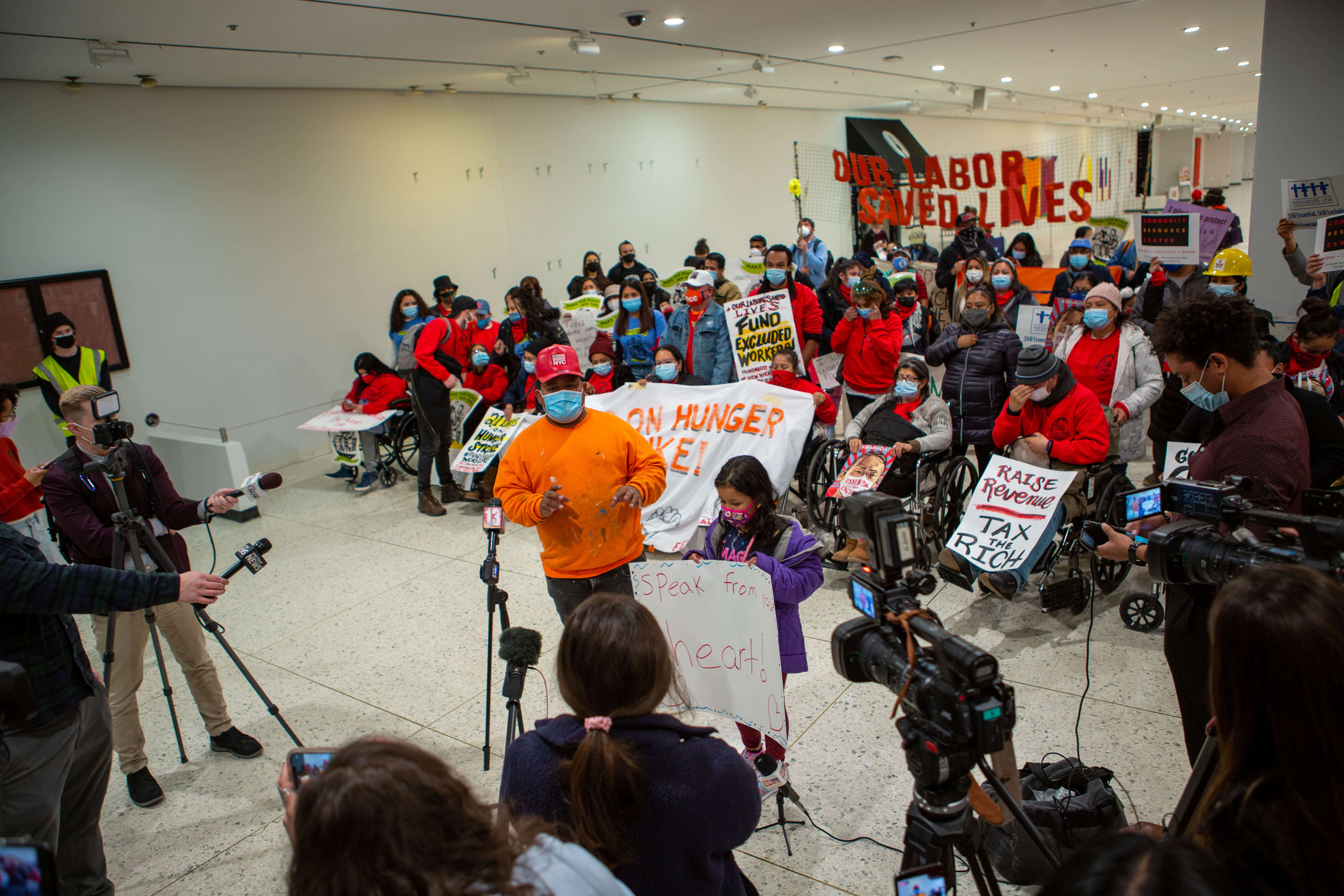 Announcing: Excluded No More Campaign
Ending unjust gaps in our safety net that leave workers behind
The fight for the Excluded Workers Fund showed us that our safety net system is filled with gaps that unjustly shut out many of New York's most vulnerable workers, especially Black, Brown, and immigrant workers in precarious low-wage industries.
Our plan will remedy these injustices by providing unemployment compensation to workers who are excluded from regular unemployment insurance, primarily because of their immigration status or because of the kind of work they do.
To get involved, contact us at 518-303-3848 or at sanctuarycolumbiacounty@gmail.com.
Who will be covered?
Anyone who loses their job and can't access unemployment insurance because of their immigration status

Applicants must have earned under the state's median individual earnings (currently $56,000), and worked at least 20 weeks in the 12 months before they lost work.

People paid in cash, such as domestic workers and day laborers. While theoretically eligible for Unemployment Insurance (UI), these workers are excluded in practice.

Applicants must have net earnings under the state's median (currently $56,000).
Self-employed workers like street vendors or house painters who face an adverse event like losing multiple clients or a major personal issue. Applicants must make less than 80% of the median earnings on a net basis (currently $45,000/year).

Special consideration is given to making sure people who should get unemployment insurance, such as misclassified workers, do get regular unemployment insurance.
How will it work?
Eligibility requirements take the best practices of regular unemployment and the best lessons of implementing the Excluded Workers Fund. Individuals will apply in the month following their unemployment. They can reapply each month and can qualify for up to six months per year.
Those who qualify will get a flat payment that matches the average state rate for unemployment insurance, currently $1,200 per month.
Documentation requirements would build on the Excluded Workers Fund, including correspondence from employers, direct deposits, and self-attestation, as well as W-2, 1099, or income tax filings.
Community-based groups and other agencies will direct applicants who could be eligible to the program and help those who qualify through the application process and navigators will steer those eligible to regular unemployment insurance to that program.
How much will it cost?
First-year cost: $800 million
The funding will be enough to cover a $1,200 monthly payment to 50,000 people, along with administration costs. The number of people who qualify is roughly equivalent to a 10% unemployment rate and a 50% take-up rate for a million people. (Note: this is a rough estimate of the number of people who would qualify and apply.) Any surplus would be rolled over to the following year.
------------------------------------------------------------------------------------------------------------------------------------------------------------------------------------------------------------
WE WON the Excluded Workers Fund in 2021!
On April 6th, 2021, our community won $2.1 billion fund for excluded workers. This historic victory is the first of its kind in the US.
Excluded workers have been on the frontlines of this pandemic, but haven't received any state or federal financial support. This fund will provide direct assistance to those workers, finally providing the relief so many others have already received.
These funds will help workers like Oswaldo, who worries each day about his son with asthma and is struggling to pay back rent; Nelson and his daughter Chelsea, who survived COVID only to fall far behind on bills; and Dawedo, who was just released from ICE detention and came back to a world in economic crisis. Our members who are farmworkers, restaurant workers, domestic workers, and construction workers have sacrificed their bodies and their lives to get us through this pandemic and to win this historic victory. We honor and salute the hunger strikers who went 22 days without eating. 
At the same time, there are some disappointments. Some restrictions have been included which will further exclude portions of our community. Legislators failed to sufficiently tax billionaires and excluded those who were recently released from incarceration. 
Still, this bill will help an estimated 290,000 undocumented New Yorkers in desperate need of support. When we joined this campaign as the Capital Region coordinator, we knew how essential the voices of workers and allies in upstate and rural NY would be to winning this campaign. To those of you who attended our events, called your electeds, and signed on to our organization, business, and interfaith letters to support and amplify our campaign, THANK YOU! 
We appreciate our local elected officials who boldly took a stand and supported the Fund for Excluded Workers: Senator Neil Breslin, Columbia County Supervisor Michael Chameides, Hudson Mayor Kamal Johnson, and Albany Common Council Member Owusu Anane. We also applaud Majority Leader Andrea Stewart-Cousins and Speaker Carl Heastie for holding the line against Gov. Cuomo's attempts to sabotage the fund. We are deeply grateful to our legislative champions, especially State Senator Jessica Ramos and Assembly Member Carmen De La Rosa, and Assembly Member Marcela Mitaynes, who fasted with workers for 12 days in solidarity. 
We are honored to have worked alongside coalition partners like New York Immigration Coalition, Yonkers Sanctuary Movement, Worker Justice Center of NY, Nobody Leaves Mid-Hudson, Worker's Center of Central NY, Make the Road NY, and so many more. 
Below are resources available for download about the Fund for Excluded Workers. We will update you with more information as we learn more!
Here's a highlight reel from the campaign!