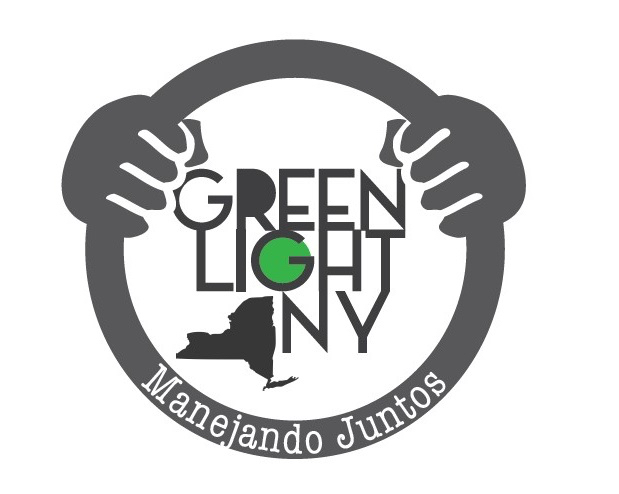 Green Light NY
(Español debajo)
We Won Equal Access to Driver's Licenses for All New Yorker's Regardless of Immigration status!
To schedule an appointment with the DMV, click here. If you have an appointment, you do not need to wait in line! Just enter through the doors and get checked in. Mask required.
You must have all your paperwork filled out prior to your appointment. Use the ID44 to learn what documents can be used and their point value for the application process. 
(Bengali speakers can use this form)
The Green Light NY Coalition, lead by the directly impacted Gabinete and Steering Committee, is made up of over 300 organizations. After years of campaigning, on June 17, 2019  the New York State legislature passed A03675/S1747, also known as the Green Light Bill. 
Columbia County Sanctuary Movement serves as regional coordinator for Upper Hudson Valley and Capital District. CCSM members Maria Romero and Dalila Yeend helped transform the narrative and lead the campaign locally. CCSM organized tremendous support from community members, elected officials, farmers and the business community. 
¡Hemos ganado acceso igualitario a la adquisición de licencias de conducir para todos los neoyorquinos, sin importar su estatus migratorio! 
Para hacer una cita con el Departamento de Vehículos Motorizados (DMV), haga click aquí. Si usted tiene una cita, ¡no tiene que hacer fila! Solo entre por la puerta y regístrese. 
Ese video explica como fijar una cita para el examen del permiso:
Debe llevar todos los formularios completados cuando vaya a su cita. Use el ID44 para saber qué documentos se pueden usar y su valor en puntos para el proceso de solicitud.
La Coalición Green Light NY, liderada por el Gabinete y el Comité directivo, está compuesta por más de 300 organizaciones. El 17 de junio de 2019, después de años de campaña, la legislatura del Estado de Nueva York aprobó la ley A03675/S1747, también conocida como Green Light Bill o la Ley de luz verde.
El Movimiento Santuario del Condado de Columbia (Columbia County Sanctuary Movement - CCSM) trabaja como coordinador regional del Valle de Upper Hudson y el Distrito Capital. Miembros de CCSM María Romero y Dalila Yeend ayudaron a transformar la narrativa y a liderar la campaña en sus localidades. CCSM logró conseguir la ayuda de la comunidad, funcionarios, agricultores y empresarios.
We won legislation, now we must ensure fair and timely Implementation. Conseguimos que se aprobara la ley. Ahora debemos asegurarnos de que se implemente equitativamente y a debido plazo.
Learn more about privacy protections within the legislation to safeguard applicant information and frequently asked questions about our next steps: 
Conozca más sobre las protecciones de privacidad dentro de la ley para resguardar la información del solicitante y respuestas a preguntas frecuentes sobre los pasos a seguir:
Privacy Provisions -- Provisiones de Privacidad